Saudi Arabia's 4th
International Health &
Beauty Exhibition
Saudi Health and Beauty is the only meeting point for KSA's professional Beauty and Wellness industry.
The show will attract thousands of visiting distributors, wholesalers, retailers, Salons owner's, hair stylists, makeup artists and buyers who come to see a vibrant showcase of exhibitors.
The show is still the only business event dedicated to the health, beauty and wellness sector in Saudi Arabia since it was launched in 2014. Saudi Health & Beauty 2016 was held in Hilton Hotel giving it a more sophisticated appearance as well as elevating visitors' quality. Featuring Organic Zone for the first time showcasing trendy natural products, it also featured Beauty Me Zone drawing over 180 hairstyle professionals, Educational Beauty Courses & Activities with more 76 attendees, the 1st Hairstyle Competition of its kind in Saudi Arabia and Saudi Business Matchmaking Program which succeeded in connecting exhibitors with their targeted buyers, which resulted in strong growth in popularity across Saudi Arabia, So does the visitors numbers - increasing by 42% and 40% in trade visitor since 2015.
Saudi Health and Beauty 2017 will be held from the 3rd to 5th of December in Hilton Hotel – Jeddah Saudi Arabia
Saudi Health & Beauty 2016 in numbers
(42% increase on visitors from last year)
95% of Exhibitors were
satised with the quality of visitors
at last edition of
Saudi Health & Beauty
Why Saudi Health & Beauty 2017?
New Opportunities
Meet and do business with more than 6,000 trade visitors from the following sectors: Retail, Investors, Distribution and Wholesales
Get To Know
Network with your industry and learn about new trends and sector developments
Official Government Support
The highest representation of Saudi government officials at any Health & Beauty show in the region
Saudi Arabia: The Largest Health and beauty Market in the GCC
Testimonials
"We've been exhibiting for three years, from the very beginning. This year is the best year. It is as if it is another exhibition altogether, from how amazing and successful it is. We are exhibiting with three of our companies in the group – Eric Zemmour Salon, Le Medi Spa and Al Hoda Home Health Care Center. The organization, marketing, visitors and how everything is coordinated in a very good way. The number of visitors is even more than every year. They are a lot and even the quality is really good. Of course, I am coming back next year. Definitely."
Dina Labib
Business Development and Project Manager | Al Hoda Group, KSA
"We came to this Saudi show without expectations and upon arriving here, we are so impressed with everything. The organization, structure, the people that we have met, contacts that we've been in touch with have been fantastic. We're gonna leave this show extremely pleased and looking to come back another year. We've met all our objectives and more."
Jennifer Jackson
Director and Founder | Laila London Organic Skincare, UK
"We want to be able to expand our business into Saudi Arabia. We know our products are popular here but we're not officially in the country. So, we're trying to find a way to introduce our products to distributors. We came not sure of what to expect. We thought it was a small show and we're pleasantly surprised. Lots of good interest from many people that have stopped by in the past couple of days. I think it is a good show and I love to come back again next year."
Bassam Faress
Snr. Regional Business Development Manager – Africa/Middle East | Now Health Group, USA
"The show so far, my first impression was it's very extravagant. I think you guys did a wonderful job and so far, I'm extremely impressed with the show. In terms of the quality [of visitors], we were spot on and we were able to achieve our targets. Absolutely, I will definitely do this again. You guys have been amazing; I think I've said that to you repeatedly. So far so good, and definitely you guys should be looking forward to seeing me again next year."
Eric Asare
President | Eve Organics, USA
"I'd like to congratulate and thank SHB team for their growing success through the years, amazing management, hard work and their much appreciated help for Nazih Group all throughout the event"
Wisam Hamad
General Manager | Nazih Group
"We thank Sunaidi exhibitions and conferences and the Saudi Health and Beauty team. The amount of visitors and attendance was great. We're so happy with our first participation in the exhibition and we'd love to participate in the upcoming years."
Ahmad Abdulhaq
Marketing Manager | Al Sewaidi Trading Co.
"The event was amazing and we were happy to participate this year , it was perfect , trade visitors and unique visitors were special , we hope to participate in the next years"
Turki Al-Qurashi
Managing Director | Avanti Diet Center
Sponsors & Partners
Organiser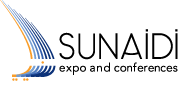 Community Service Partner & Invitation Sponsor
---